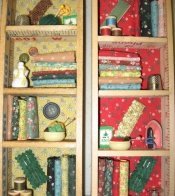 Hello! Welcome to Fleece And Fabric
Enjoy!

Please bookmark this website https://www.fleeceandfabric.com so you can return as desired.
Please note: I am not affiliated in any way with the companies which make the products I sell.
FLEECE AND FABRIC offers new handmade fleece and flannel blankets.
We also sell quality fleece, fabric, and flannel by the yard.

We enjoy collecting fabrics from years ago which will not be reprinted.
No seconds or defective goods will be sold.
The sky is the limit with all the pretty things you can make.
Also for sale:
Baby Quilted Fabric Panel Blankets,
Baby Soft Book Panels,
Handmade Fleece scarves,
Sewing Patterns, Latch Hook Kits,
Fabric pillow panels, and wall panels to sew
Christmas Stockings to sew
Puzzles
Thanks for visiting, and have a great day. Mary.