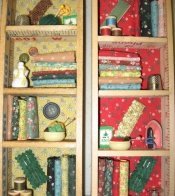 Baby Fleece Blanket sale starts 2-10-15
$2.00 off most of my 80 handmade blankets - and always Free Shipping
I usually have more of each if you have twins or triplets!
See pictures below
-----------------------------------------------------
Hello! Welcome to FleeceAndFabric.com
Enjoy!

Please bookmark this website www.fleeceandfabric.com
so you can return as desired.
Please note: I am not affiliated in any way with the companies which make the products I sell.
FLEECEANDFABRIC.com specializes in new handmade fleece blankets and flannel blankets for adults, children, and babies.

Think of us when you need a pretty, handmade blanket for yourself or a gift.
FleeceandFabric.com also sells quality fleece, fabric, and flannel
by the yard for adults and children.
Sew a quilt with our quality cotton fabrics.
We enjoy collecting fabrics from years ago which will not be reprinted.
No seconds or defective goods will be sold.
The sky is the limit with all the pretty things you can make.
Please view my toy, game, puzzle, and collectible listings in the left sidebar.
Please note: Always free shipping on any amount or combination of:
Handmade Flannel Baby Blankets,
Handmade Fleece Baby Blankets,
Baby Quilted Fabric Panel Blankets,
Baby Soft Book Panels,
Handmade Fleece scarves,
Sewing Patterns, Latch Hook Kits,
Puzzles, Fabric pillow panels, and
Christmas Stockings to sew
Thanks for visiting. Mary.